The SB Series is the range of equipment for cutting single bottles with standard geometries.
The SB Series are perfectly adapted to the needs of every project in accordance with production speed, bottle and neck dimensions, on-line positioning and environmental working conditions of the bottling line.
Models of the SB SERIES are suitable for:
» Small and medium sized manufacturers of all kinds of plastic bottles as a complement of the blow moulding machine. Blow moulding machine is no longer involved in the cutting stage.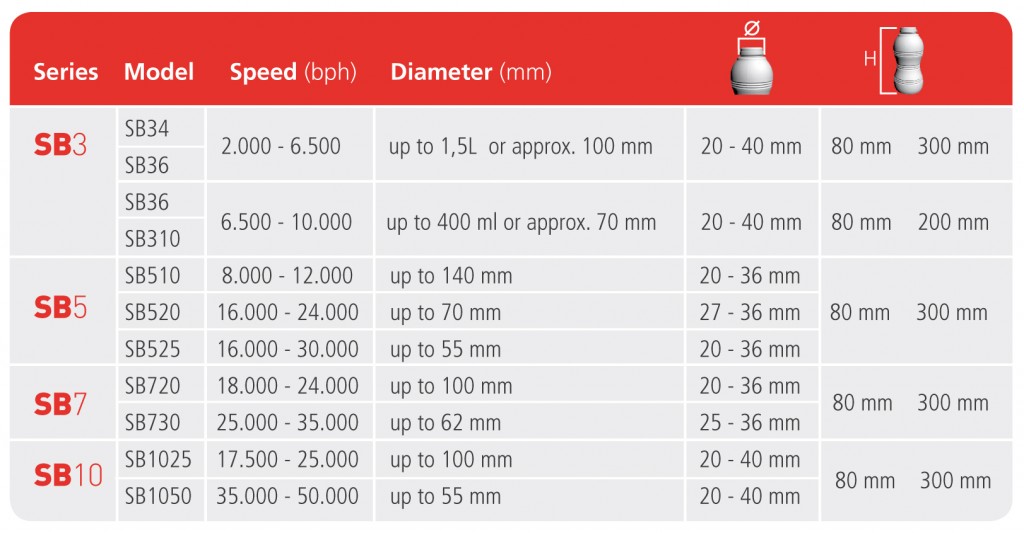 » Proveedores de botellas con instalaciones de soplado "
Large volume blow moulders or those requiring to consolidate in one specific trimming unit the bottle trim operation of bottles made on various blow moulding machines.
» Bottle manufacturers with IN-HOUSE blow moulding operations in the bottling plant of the end customer.
» Milk bottling lines using Polyethilene containers (i.e. milk and ESL dairy products in PE and HDPE bottles) that besides efficiency require a bottling process in optimal hygienic conditions. The rotary trimmer can be implemented in the line prior to or together with the filling machine, allowing the possibility of immediately fill bottles after trim. Trim-Fill technology (no need of rinsing bottles).
MAIN FEATURES:
The bottles enter and leave the trimmer by means of a vacuum assisted belt conveyor to ensure bottle stability at both entrance and exit. Optionally it can be a table top chain conveyor or a pneumatic one when the machine is implemented in lines with transport by the neck.
Bottles are transferred in a rotary movement turning on their own axis at the same time. This rotation commences when the bottle enters the turret main shaft, described as "rotary trimming unit".
They admit different bottle formats and the height of the carousel can be adjusted manually or automatically:
Quick bottle change over, with no need of special tools.
They admit, on "by-pass" mode, the pass through of PET bottles pre-formed neck being processed in the same line.
Detection and auto rejection of fallen bottles (at in-feed) and non trimmed ones (at out-feed), avoiding lines stops.
The removed section of the neck (moil) is rejected through a collection chute allowing its reutilisation.
Maer equipment is designed and constructed to comply with all the safety requirements established by the CE, UL and all other equivalent regulations.
SPECIAL EXECUTIONS:

 – ULTRACLEAN: the SB Series may be equipped with Hepa Filter Laminar Flow Units for ultraclean applications. – ASEPTIC: An aseptic version is available. These are entirely made in stainless steel and other materials that are highly resistant to the corrosive effects of cleaning products. The aseptic version can be implemented under CIP systems and white rooms to work in synchronisation with the filling mono-block. – OEM: Maer also supplies the rotary trimming turret to be coupled to OEM's filling mono-block frame.